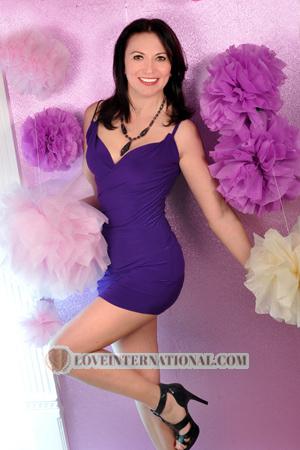 Larisa
Age: 54
Zodiac: Scorpio, monkey
Weight: 145lb, 66kg
Height: 5'6", 168cm
Eye Color: Hazel
Hair Color: Black
Marital Status: Divorced
Children: 1 - girl, 26
Religion: Christian
Smoker: No
Drinker: Socially
Education: University
Company: Private
Job Title: Head of Finances and Economical Dept.
Sports:
Hobbies:
Self Description: If anyone has a lack of energy or power it is not about me! I can even share it. Kindness and humanity are the first things that I value in the others and that we should keep in any situation. Every day we have opportunity to live a little new life. On my mind it is up to us what it will be and what emotions we choose to fulfill it. I prefer to think that everything happens for some reasons and at long last it will turn for better!
Comments: For me it is very important that my man would be serious and honest in his intentions and in everything he does. Though I appreciate a good sense of humor and also like to have fun. I cannot imagine myself with the one who could be irresponsible for his family. I am mature woman and wish to meet someone who has a positive mind, open to change something and let through a fluttering feeling in his life.