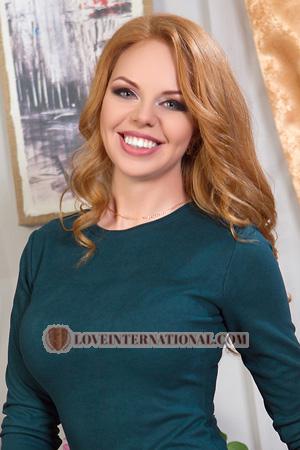 Inna
Age: 34
Zodiac: Libra, Dragon
Weight: 123lb, 56kg
Height: 5'6", 168cm
Eye Color: Green
Hair Color: Auburn/Red
Marital Status: Single
Children: None
Religion: Christian (Orthodox)
Smoker: No
Drinker: No
Education: University
Company: Private
Job Title: Pharmacist
Sports:
Hobbies:
Self Description: Like almost all red-haired women, I am very energetic, active and cheerful. I cannot imagine my life without bright emotions, new acquaintances and trips. For me such things like self-development mean a lot. I know what I want from this life and I always do my best to achieve my dreams. My main goal and my fondest wish is to find my second-half and create a happy family which will be based on love, trust, respect and honesty. Yes, I am convinced that nothing cannot replace this special feeling when you love and when you are loved.
Comments: I cannot say that I have a list of qualities which my future husband must have. I consider that love cannot be planned, but love just happens without any effort if its meant to be. No one is perfect, so I am not looking for a prince on a white horse. All I want is to love and to be loved, feel happiness and soul harmony every day. Although of course I understand that life has ups and downs, but I believe that if two people sincerely love each other, they will overcome everything.